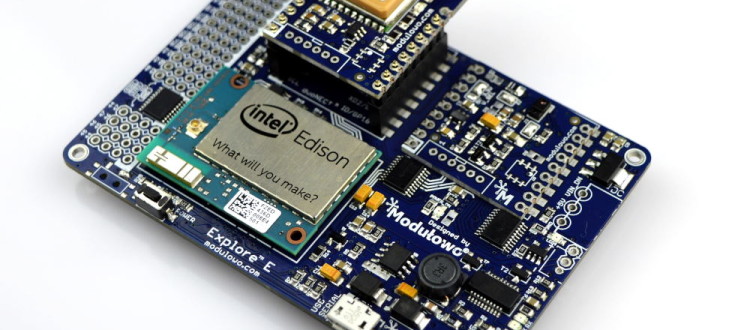 Modulowo Explore with DuoNect – new solution for rapid design and production
Modulowo DuoNect™ solution – universal standard pinout – allows for quick and easy connection of expansion modules, such as sensors, controllers, buttons, analog and digital IC, GPS, Bluetooth, WiFi (and more) for platforms, such as, Intel® Edison, Raspberry Pi, Arduino, Genuino, STM32 Nucleo, TI LaunchPad, Atmel Xplained or Freescale Freedom / Kinetis.
Key parameters of add-ons modules:
standard pinout including the power pins, UART, I2C (TWI), SPI, 1-Wire, digital and analog pins
width (~ 25.6 mm, 1010 mils)
3.3V/5V logic levels tolerant
compatibility with breadboard
possibility of installing a identification chip
can be installed directly on adapters by castellated holes or by 

pin

headers
[su_box title="Modulowo Explore™ Boards" box_color="#0a6ebf"]
[su_button url="https://store.modulowo.com/pl/c/Modulowo-Explore-DuoNect/120″ icon="icon: shopping-cart"]Full list in Modulowo Store >>[/su_button]
[/su_box]
         Example. Explore R adapter for the Raspberry Pi. "On board": 12-bit ADC for analog inputs, EEPROM, 3 slots for add-ons modules and pins for I2C,SPI and UART.

        We also present Modulowo® Explore™ E for Intel Edison, dedicated to the Internet of Things with Intel® Atom dual-core processor, Wi-Fi and Bluetooth LE 4.0.
        The use of castellated holes  allows for quick execution shield with the required functions. In contrast, the use of other methods of installation, pin header, you can easily change the module on a completely different or change the base plate, if present is insufficient.
List of currently available adapters
[su_box title="Modulowo Explore™ Boards" box_color="#0a6ebf"][su_button url="https://store.modulowo.com/pl/c/Modulowo-Explore-DuoNect/120″ icon="icon: shopping-cart"]Full list in Modulowo Store >>[/su_button][/su_box]